How I Started Writing....
I have always loved fiction and was an avid reader as a child (Once I worked out how?) I have dyslexia so writing was a bit of an issue (I was not diagnosed until I was 12) 38 years ago dyslexia was a new invention!

Anyway when I was 15 I started writing stories for my class mates. OK, I sold them to my class mates! I was writing a story in my maths mock exam and got into BIG trouble! That was the end to my story telling! Well, for 35 years anyway!

So fast forward 35 years to 2+ years ago.....

I needed to go on Dolly Cold Turkey so I could save some money as we were moving. BUT I had ordered eight Fashion Royalty dolls who all arrived at once. I decided to only open them one at a time and started a little competition... Neal (who arrived just before Dolly Cold Turkey) would go on a date with each doll

1. Dynamite Girl Gavin Wave two

2. Dynamite Girl Aria Wave Two

3. Dynamite Girl Reese Wave Two

4. Dynamite Girl  Jett Wave Two

5. Quick Silver Kyori

6. Ayumi London By Night

7. Colette Lost Angel

8. Erin Clash Control

The dates were as follows


1. A Day at the Beach...Aria

2. A Drive in The Country...Reese

3. Lunch at Neal's Club... Kyori

4. A Film Première... Gavin

5. Night Club... Ayumi

6. A Fashion show... Colette

7. A Romantic Dinner... Erin

8. A Party ...Jett

Neal Hage is an OOAK by Veronica Hage Eight O'clock Designs

LINK TO NEAL'S DATES        
At the same time I started Sarah's Story, Sarah in an OOAK by Dawn Anderson One Sixth Sense.


To start with these were two separate  stories but at the end they became one! (I had no idea this was going to happen) at the time they all lived in Hollywoodley (I lived in Woodley Rd), then I moved.....

And Now we have THE PRIORS (I live in Priors Close). When my doll room is built (Later this year) I will have a whole town for all my dolls to live in....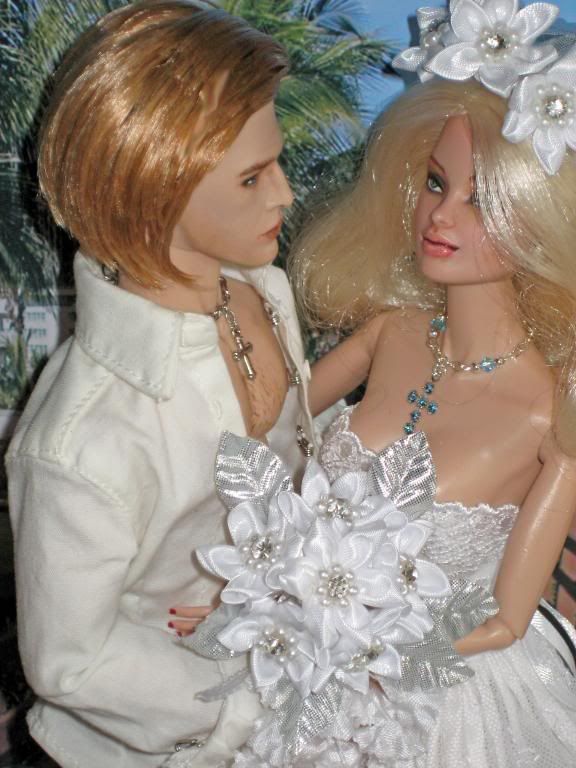 So how do I come by my story lines?

Yeap, they are sometimes a little off the wall! LOL

Well, I get ideas from the TV or the newspaper and sometimes I just get a mad idea and research it to see if it's possible!  I spend a lot of time on my story, I have a note book next to my bed and have often woke in the nights to make notes....often have no idea what they say in the morning though! LOL

Normally I will write an episode in a couple of days but have notes up to six months in advance. I try to keep at least five episode written past the episode due for publication on Thursday.

On Friday I will read through the next episode and make a few changes, then dress the dolls and sort through my diorama stash once I have it all together I'm ready to shoot!

Next I photoshop all the photo's weed out the rubbish and download onto photobucket.

Then I marry up the pictures to the story.... hay presto ready to publish!

So no.... story telling is not an easy option! But it is fun and I enjoy it!

I love to 'play' with my dolls, I love taking photo's and I love to write..... put it all together and you get THE PRIORS (Oh, and I love strange medical problems) If you read my story you will know what I mean!

So this week is episode FIFTY NINE, not an auspicious number but for me an important episode! The cumulation of two years work and the start of a new story line (or two).

Many answers to many questions over the next few weeks and I hope you will join me (and my dolls) on this fun journey.

Oh, one more thing if you are new to my stories they have a lot of adult content! The very adult bits are in the UNCUT section and only readable if your a member of my site (You need to be over 18)

If you like what you read and want to make sure you never miss an episode then join the site and you receive an e.mail every time I update my site.