| | |
| --- | --- |
| Posted by Susannah on March 11, 2015 at 6:10 AM | |
At least for today it's spring.... by this evening who knows? LOL I have been very busy (hence no time to post in my BLOG) After some time with both girls playing up things are a little more settled Amy has stopped sitting under the desk at school and has started talking to her teachers again???? Sophie has stopped talking to to bullies at college and after some police intervention things are more settled for her. So now I don't need to get quite so stressed out by them I have a little more time for me and my dolls and my home, oh and the cats! So where to start?
Well for me I got a cold in November that left me with a cough that has STILL not gone but I feel OK apart for the cough that is slowly going (I think?)
The cats? Wellllll I'll start at the top and work through.
Godfrey he is fine and gets along with all the cats. LOVES Ashley and they snuggle together a lot.
Gezabelle still as mad as a hatter (not in a funny way) I can no longer let her out as she gets into fights and I think she must be allergic to cat bits as every time she gets big souse and lumps = trip to vet= ££££. She is now on medication in the hope of calming her down and we have Feliway in every room. Through the winter it's been very difficult with the other cats in the house as well. Gez has spent most of her time in Sophie's bedroom only able to come out when I have locked the other cats away. We sort of worked on a traffic light system.
Twins Anibelle and Izabelle they have spent a lot of time either outside or in my bedroom. They are fine with The God but fight with Gez. Not bad with the boys but frightened of Ashley. I call them the ferrules as it's so hard to get them in.
Ashley well she still looks pregnant and I think all those years of being pregnant (the vet thinks she is about eight?) Her nickname is Buda mama! As I said before she loooooves God puts up with the boys, a bit like most mothers of teenage boys. Not fond of Izi and Ani and as to Gez... well I have still to properly introduce them!
That leaves the boys who will be a year old in a couple of weeks. What can I say? Perri and Jordan are pretty much like any teenage boys A PAIN IN THE BUM! But loving and funny too! So I will let them off. They are OK with everyone although I would not leave them in a room with Gez as she can't be trusted.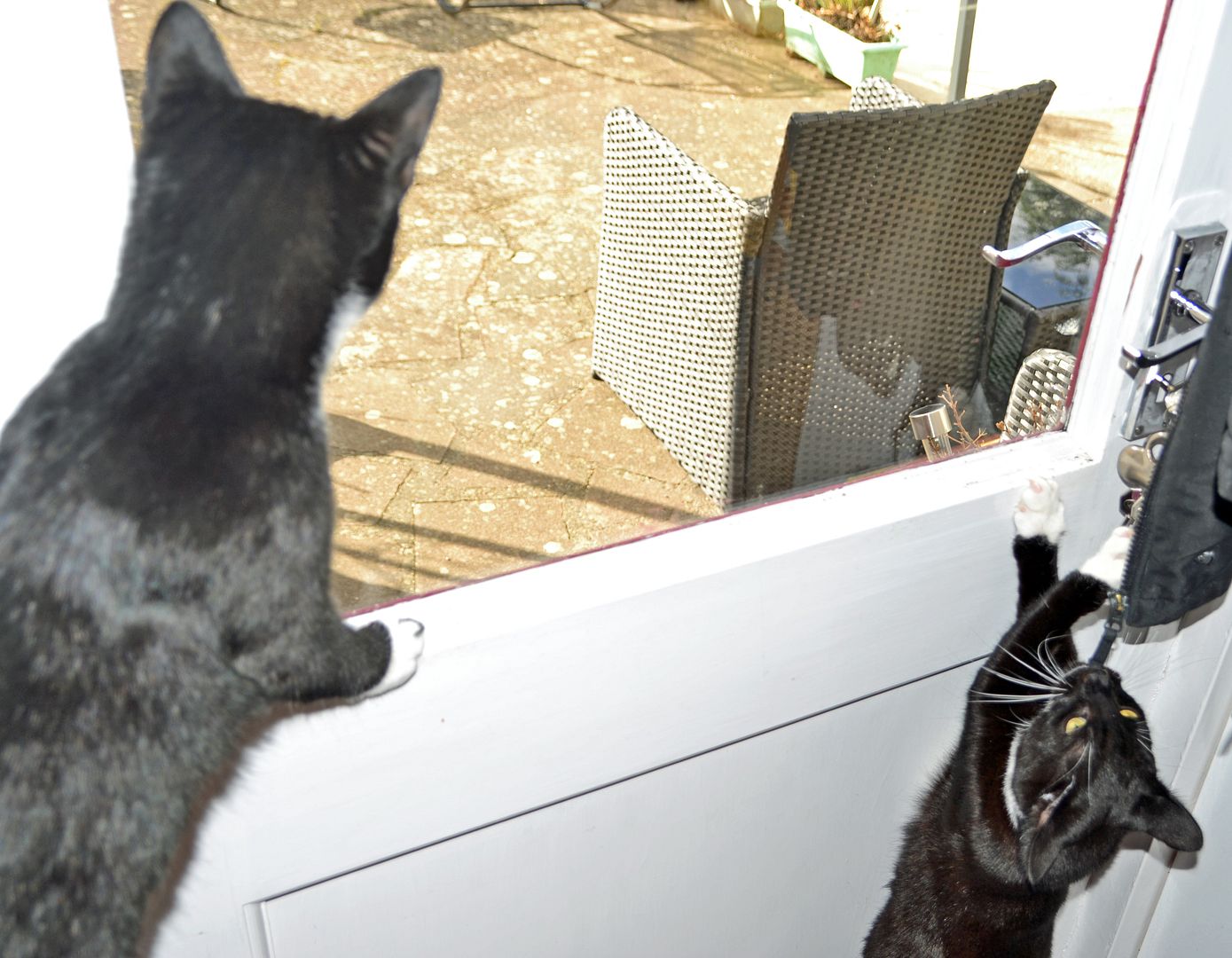 Pleased to say six out of seven cats will now play in the garden together without trying to kill each other!!! (There six cats in the photo can you find them?)

Home... I finally after three years of looking have found a sofa I like (and can afford) it's BIBA and I'm getting it in grey with lilac cushions.
This is the beige mine will be grey but I cat find a photo of the grey one.

This means that it does not match the rest of the living room so the decorating head has been put on. While I'm doing this I decided I would also fix the things in the hall still awaiting finishing off... oh and new doors upstairs. The dining room needs redecorating too, I brought the wallpaper last year on holiday (as you do). All this because I brought a new sofa due in about six weeks.
BUT FIRST I need to clear some space to store everything from the rooms I want to decorate!!! I need to clear out some space in the study. OK, simple? NOOOOOT! I had a pile of foam-core boards awaiting turning into wardrobes and storage. A load of bags full of doll clothes awaiting said wardrobes and storage units. So I had to get making these up first. Now I have run out of hangers so I'm awaiting more.
In the doll room I wanted to change an area around to give the rooms more light and before I forget my plains (stored in my head) So I moved the doll room around THEN I had room for (some) of the wardrobes and storage units.
So the doll room has been moved around and the units built and clothes are hanging on the rails. Shoes are on the shelves.
There are a lot more racks stored behind. I have more hangers on order and I will be ordering some made to size plexi glass and magnets to put on the front of the shoe units.
I just need to hem three pairs of trousers (mine) and shorten the straps on a dress for Sophie (some have been sitting there for two years) and I will ready to start clearing the dining room and living room ready for decorating.
If you want to see how to make simple wardrobes and storage units LINK TO MY BLOG

Oh, only day out since Christmas has been a shopping trip at half term to Lakeside Shopping Centre where I brought the sofa!
A just because picture of my cat taken today. Both sets of twins Izi and Ani, Jordan and Perri.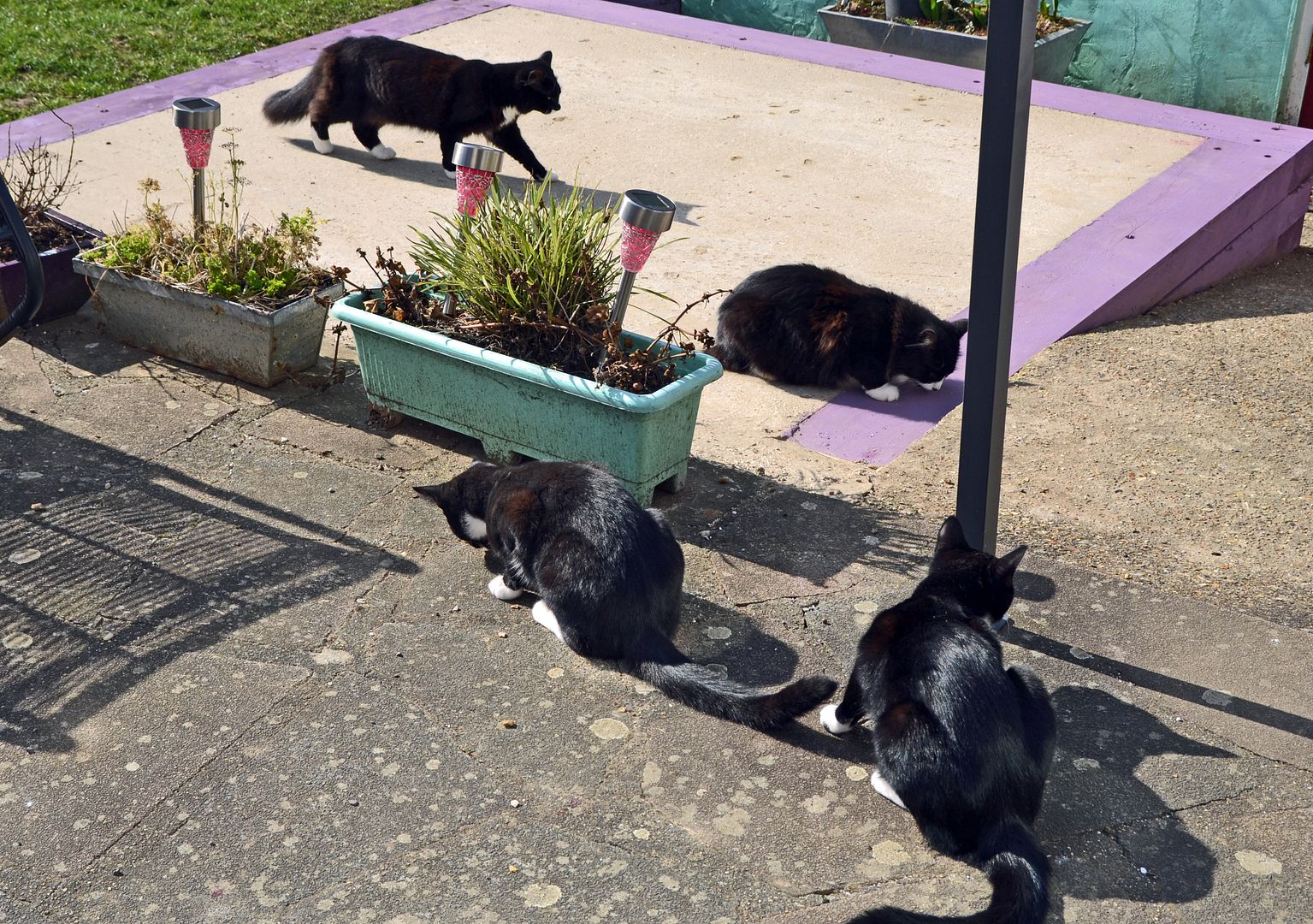 Categories: None